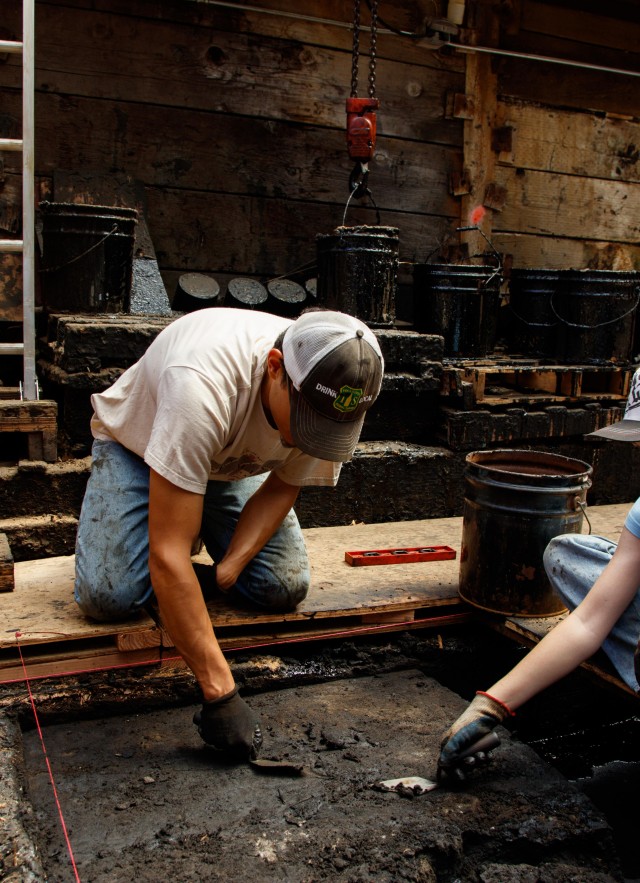 The existence of asphalt seeps (oil) and dense fossil accumulations at Rancho La Brea is dependent on the unique tectonic history of Southern California. The evolution of the San Andreas Fault zone is complicated and dependent on a number of past events.
During the Miocene (between 23 - 5 million years ago) the tectonic plates in the Southern California region changed from subduction to transform (strike-slip) faults. The crustal plates rotated which in turn stretched the L.A. region and formed a deep structural basin. Large amounts of marine sediments were deposited forming up to 6 miles deep!  The L.A. Basin is one of the richest oil basins in the world in proportion to its size and volume. Later the Santa Monica Mountains uplifted and rivers flowing down brought large amounts of sands and gravels that subsequently buried the remains of plants and animals trapped on the surface of the asphalt seeps at Rancho La Brea.
References
Atwater, T. http://emvc.geol.ucsb.edu/1_DownloadPage/Download_Page.html
Bilodeau, W.L., et. al., 2007. Geology of Los Angeles, California, United States of America. Environmental and Engineering Geoscience 13 (2): 99-160.
Gilbert, J. Z. 1927. The bone drift in the tar beds of Rancho La Brea. Bulletin of the Southern California Academy of Sciences, 26 (3), 59-66.
Ingersoll, R.V., 2008, Reconstructing southern California, in Spencer, J.E., and Titley, S.R., eds., Ores and orogenesis: Circum-Pacific tectonics, geologic evolution, and ore deposits: Arizona Geological Society Digest 22, p. 409-417.
Quinn, J. P. 1992. Rancho La Brea: Geologic setting, late Quaternary depositional patterns and mode of fossil accumulation. In E. G. Heaph, & W. L. Lewis (Eds.), South Coast Geological Society annual field trip guide book, no. 20: The regressive Pleistocene shoreline Southern California, (pp. 221-232). South Coast Geological Society.
Quinn, J. P. 1992. The geologic setting of Rancho La Brea. Terra Magazine, Natural History Museum of Los Angeles County, 31 (1), 38-41.
Shaw, C. A., and J. P. Quinn. 1986.  Rancho La Brea: A look at coastal southern California's past.  California Geology 39, 123-133.
Valentine, V. W. & Lipps, J. H. 1970. Marine fossils at Rancho La Brea. Science Magazine, 169, 277-278.
Woodard, G. D., & Marcus, L. F. 1973. Rancho La Brea fossil deposits: A re-evaluation from stratigraphic and geological evidence. Journal of Paleontology, 47 (1), 54-69.
Wright, T. 1987. Geological setting of the Rancho La Brea tar pits. In AAPG Pacific Section 2009 - Petroleum Geology of Coastal Southern California (1987), pp. 87-91.