Backyard Bobcats of L.A.
"Miguel, I found a dead bobcat!" It was 8:30 in the morning when I received a call from my friend Jessie Jennewein.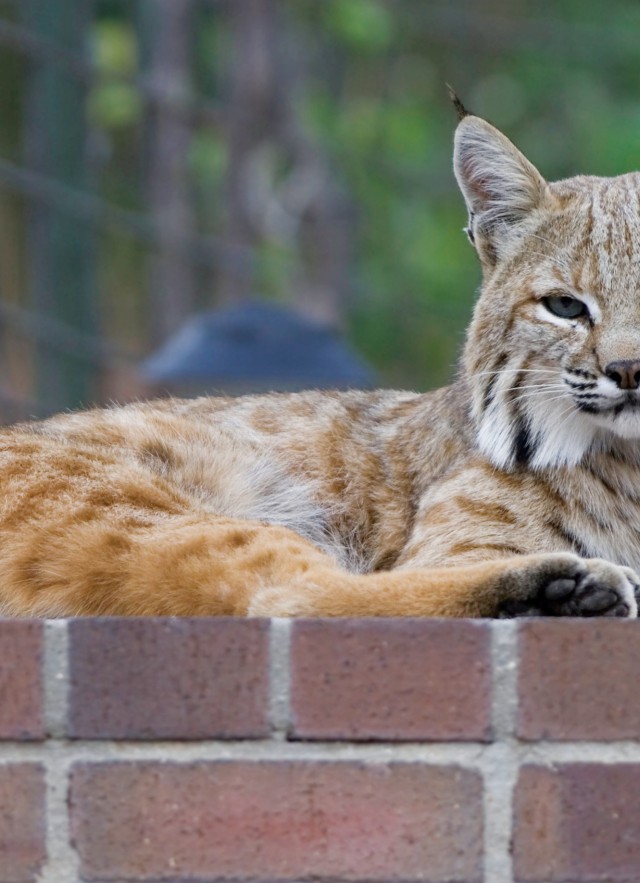 "Miguel, I found a dead bobcat!" It was 8:30 in the morning when I received a call from my friend Jessie Jennewein. Jessie and I work together at the Natural History Museum and share a passion for urban carnivores, such as pumas and bobcats.  So you can imagine that this news got our day off to a bad start.

Bobcat repeatedly spotted using the same backyard near Griffith Park for over a year. Although Jessie's news was sad, it didn't surprise me.  I've lived on the edge of Griffith Park for many years and have studied bobcats and other carnivores from the park.  In this line of work I've seen a lot. I've set up camera traps and used radio-tracking to learn where bobcats live in the park and neighborhoods near my house. I've kept a roadkill bobcat in my freezer for a UCLA Ph.D. student. Once, I helped try to recapture a bobcat that was sick with mange due to exposure from rat poison. I expected Jessie to tell me she found it near my apartment on a street just outside of Griffith Park. However, the bobcat was actually found closer to Elysian Park. Elysian Park (0.94 square miles) was considered too disconnected from known bobcat populations, and too small for a typical territorial bobcat, which requires 3 square miles of space if it is male and 1.5 if it is a female. Camera trap video (motion triggered camera) captured of a bobcat marking its territory in a remote portion of Griffith Park.  The unexpected location of the dead bobcat initially made me worried about the status of this urban-sensitive species and how to study an elusive species in an urban landscape filled with private property.  However, the opportunities to study them with citizen science left me hopeful about their future. It all happened as Jessie was on her way home from my P-22 (the famous Griffith Park puma) themed party the night before (yes, I love P-22 that much!). As Jessie was about to get on the 2 freeway near Elysian Park, she noticed a dead bobcat on the side of the road. The next day, the specimen was brought to our NHMLA Mammalogy Collections Manager Jim Dines, who also recognized the significance of the locality.  Jim and I had recently been discussing how our camera traps in the Atwater section of the L.A. River hadn't captured any images of bobcats. Our study site wasn't too far from where Jessie made her discovery. 
Before one can truly understand the significance of a dead bobcat on the side of the Glendale Freeway, it is important to have a little background about local bobcat research and ecology. Unlike other urban carnivore species with more flexible diets and social structures (e.g., coyotes and raccoons), bobcats are solitary and have a strictly carnivorous diet. However, they are able to eat a wide variety of small prey. Research by the National Park Service shows that local bobcats prefer to eat small natural prey such as rabbits (first choice), gophers, ground squirrels, and woodrats. Griffith Park camera traps have also captured bobcats consuming Eastern fox squirrels and mice. Many of these small prey species live in backyards, presenting new opportunities and new challenges to urban bobcats.
Bobcats are important predators that help regulate small mammal populations. Like most urban mammals, bobcats avoid humans by being more nocturnal. Researchers in both the Santa Monica Mountains and Orange County have documented bobcats and other urban carnivores coming out much later in areas with more human activity. Their small stature and brown spotted coloration also allows them to hide in thick backyard vegetation during the evening and the day and usually out of sight from home owners. The National Park Service has even documented female bobcats using suburban backyards as den sites, perhaps to protect kittens from coyotes that are more abundant in park interiors. Their small-size and stealthy behavior allow them to stay out of sight and out of mind of the media who tend to portray local carnivores as dangers to humans and pets. The National Park Service has studied over 300 bobcats in the L.A. area and none have ever been documented killing pets. Regardless of their stealth, urban bobcats are still vulnerable in areas with poor habitat connectivity. The bobcat Jessie found was likely attempting to cross a matrix of freeway lanes to reach the L.A. River or perhaps some backyard hunting grounds in the neighborhood across the street. Even if they can safely cross a highway or street, bobcats face many other dangers, such as rat poison exposure which makes them more vulnerable to contracting and dying from mange. Biologists have learned a great deal about the ecology and urban dangers facing bobcats in the Santa Monica Mountains, Orange County, and Riverside including areas as urban as Irvine and the Hollywood Hills.  However, their range and population health further into L.A.'s urban core has remained a mystery.  Will occasional roadkill fatalities, like the bobcat Jessie found, remain our only proof of their persistence in more urban areas dominated by concrete and private property or will we use these unfortunate clues as a call to action? After a local community activist shared Jessie's story with a local newspaper, local residents began sharing bobcat sightings with the same newspaper and the NHMLA citizen science team. A bobcat was reported in the Los Feliz neighborhood and three reports came from the Silver Lake neighborhood, including an ear-tagged individual sighted a few months later in a small greenspace between Silver Lake and Elysian Park-very close to where Jesse found the dead bobcat a few months earlier.  The ear-tag was very exciting because unique ear tag colors allow researchers to more easily identify individuals!
Researchers were able to identify the individual as B-253, originally tagged in Griffith Park, by using the unique numbers and color combinations of the ear tags. Upon seeing the ear-tag, I contacted Laurel Serieys, former UCLA Ph.D. who studied Santa Monica mountains bobcats and is now a post doc studying urban caracals in Cape Town, South Africa. Unfortunately, we couldn't read the ID number or tell the true color on the ear-tags, so Laurel was only able to confirm that it was a bobcat that she either tagged in Griffith Park near the L.A. Zoo or it was a bobcat that she or NPS tagged in the Santa Monica Mountains west of the 101 freeway. Either way, it had an amazing journey. I was relieved to learn that the dead bobcat wasn't the last bobcat of the Elysian Valley. Intrigued by the wide ranging behavior of these bobcats, I decided to place a camera trap in Elysian Park. It took a few months due to widespread human activity but eventually I captured camera trap footage of an untagged bobcat! The experience probably created more questions than answers about Elysian Park and Silver Lake bobcats, but the main lesson was clear!  Neither I nor anyone else can practically search for bobcats in L.A.'s urban core without citizen science.  There is too much private property to cover without the help of local residents. First photographic evidence of a bobcat in Elysian Park. Fortunately another local biologist by the name of Erin Boydston feels the same way.  Erin is a Research Ecologist with the USGS who focuses most of her research on urban bobcats.  Following an iNaturalist training led by myself and Richard Smart, Erin set up a citizen science project based on iNaturalist called "Backyard Bobcats" that requests participants to submit georeferenced photos of bobcats from their backyards.  Unlike other backyard carnivores, bobcats have unique spot patterns that allow researchers to identify individual bobcats even without ear-tags. Therefore, it is possible to not only document their presence but also their population density. As citizen scientists from L.A.'s urban core, such as Silver Lake and Elysian Park residents, continue sharing bobcat data from their backyards, Erin's search will continue to expand deeper into more urban neighborhoods.
Once Erin's project gathers steam, population patterns may become more apparent, such as which bobcat individuals from rural areas also use backyards. Perhaps the habitat value of previously overlooked urban parks, such as the Silver Lake reservoir or small fragments in more underserved areas like Elysian Park or Highland Park, will be identified.  Additionally, crucial habitat connections and corridors like the L.A. River and Arroyo Seco may be increasing the habitat value of these small parks by linking them together, creating a single, larger, and more functional ecosystem.  Are bobcats using urban areas due to a lack of resources and space in local open spaces or are these bobcats thriving in certain backyard habitat?  The public can help scientists like Erin map the health (e.g., photos of mangy bobcats) and distribution of bobcats throughout rural and urban areas by submitting their photos to Backyard Bobcats and the L.A. Nature Map. Jessie's discovery, while sad, did lead to the gathering of more data and increased awareness of urban bobcats in Los Angeles. My hope is that more people will send their bobcat photos to Erin's project. It is only through data collected and submitted by Citizen Scientists that we will understand the role these charismatic wild cats have in our shared ecosystem and help us ensure that they have a long future in the City of Angels. 
How to participate: Send backyard bobcat photos with date, time, and location information to the Backyard Bobcats and L.A. Nature Map using one of three methods: