Mammoth on Display
Our most complete mammoth, nicknamed "Zed" is almost ready to return to the limelight!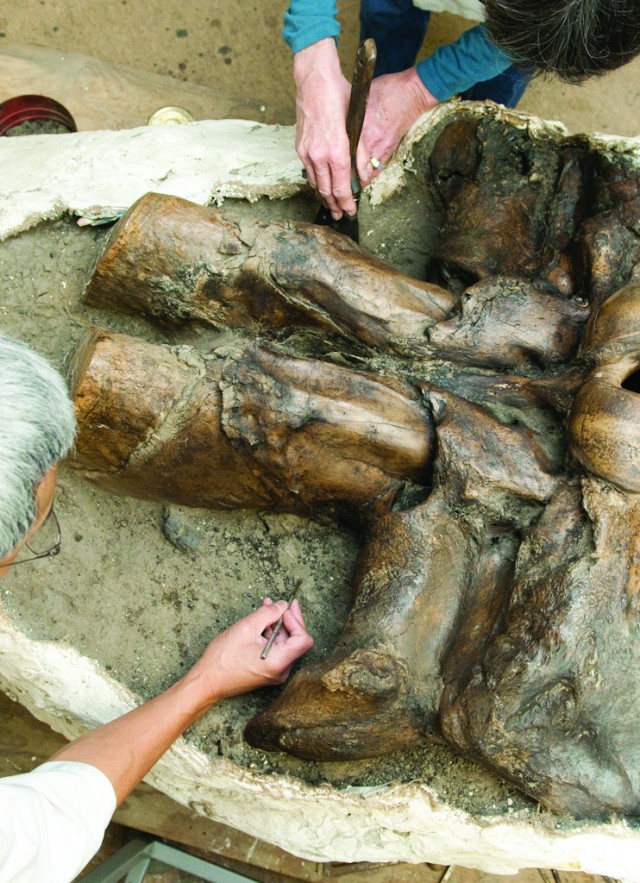 One of the biggest discoveries made at La Brea Tar Pits is a near-complete skeleton of a Columbian mammoth, nicknamed "Zed." Zed is a well-preserved male adult, about 80 percent complete, including the skull and both intact 10-foot-long tusks. And now, Zed, is almost ready for the limelight! Fossil Lab Manager Stephany Potze and her team of trusted La Brea Tar Pits volunteers are painstakingly restoring the skull for display. With tiny brushes and a light solvent, it took two months to remove a decade's worth of dust from his skull. 
Support Animal
Potze says gravity is working against them. "The molars within the upper jaw have no structural support underneath, so the weight of them is eventually going to cause them to collapse."  To prevent this, the preparators will leave the matrix of asphalt in the skull to act as a kind of scaffolding. On the outside, a gentle application of Japanese rice paper and archival adhesive will provide another layer of support for brittle bones. Potze describes it as a kind of paper mache. 
A Sticky Subject
The fact that Zed's skeleton is nearly complete is incredibly unusual for La Brea specimens; most skeletons are scattered from predators or jumbled around after a few thousand years in asphalt. Zed represents an unusual kind of scenario for our site — he died in a streambed and was preserved by asphalt rather than entrapped by it. He perished approximately 37,000 years ago at around 48 years old, possibly from an injury related to a mating fight. By summer 2020, he'll move outside the lab into the galleries for visitors to see. 
Previous restoration work used an old adhesive and Elmer's Glue. Yes, the white craft glue of your childhood stabilized the 40,000-year-old fossil. Now she's making sure that every hand that touches Zed leaves careful restoration notes. That way in the future, someone can know exactly what was done and why.
Image above: Zed's skull is on view inside the Fossil Lab. The near-complete mammoth was found in 2006 during the construction of the Los Angeles County Museum of Art's underground parking structure, which is adjacent to La Brea Tar Pits.