Take a Trip To The L.A. River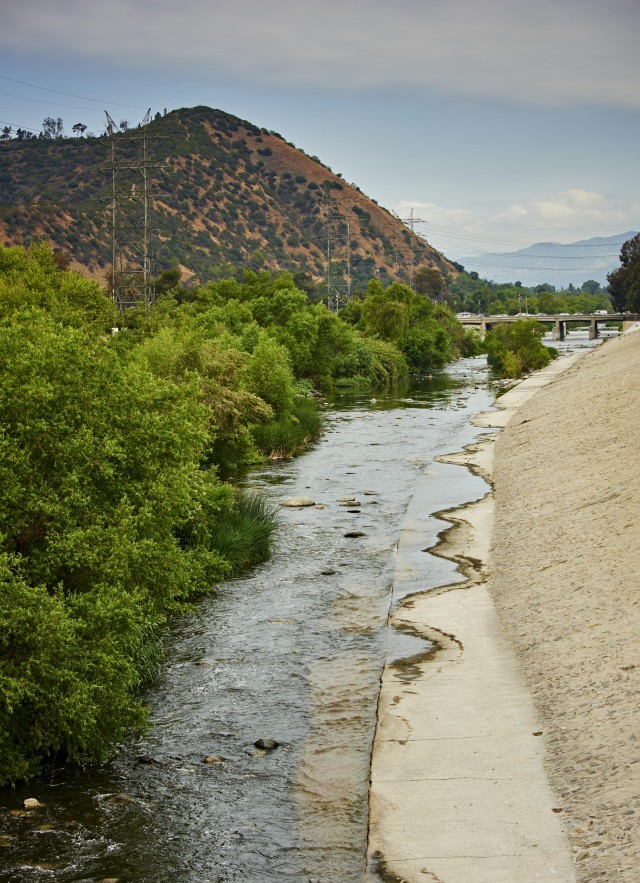 Take a hike on the wild side! Veer off the beaten path and discover some interesting Angelenos in their natural habitat—bobcat kittens, double-crested cormorants, pocket gophers, and flocks of red-crowned parrots whose forebears were pet store inventory.
Wild L.A.: Explore the Amazing Nature in and Around Los Angeles—co-written with NHM experts—features 25 excursions to see amazing nature. We will be posting abbreviated versions of these trips online, so check back soon for more!
---
Many people don't know Los Angeles has a river. But we've got a green and magical paradise just minutes from downtown! Go on an adventure and meet the damselflies, carp, and herons that call the river home. It's your portal into L.A.'s watery past!
In the Glendale Narrows part, you could see native willow trees that provide cover for coyotes and bobcats that use the river as a wildlife corridor. As you stroll or bike, you may see people fishing, and maybe even Osprey diving and catching fish in its sharp talons. In the river's murky depths, you may see damselflies (voracious predators with fierce jaws) grab insect prey.
Toadtown?
For those Angelenos who consider the city's concrete riverbed a glorified storm drain, the Frogtown section of the river (look on a map for Elysian Valley) helps to prove them all wrong. When you walk along the asphalt bike lanes, there are murals and sculptures of frogs, though living, breathing frogs are now uncommon. The Frogtown name dates back to the 1930s. In summer, thousands of baby frogs—at their smallest about the size of a corn kernel—would emerge from the river, walking up the concrete banks onto sidewalks and into residents' yards. Perhaps once a year, a lone western toad is spotted along the bike path or in a backyard garden. The springs, pools, and backchannels that once made this region ideal for toads have been destroyed, and the upland habitat is now paved over and crisscrossed by streets.
Pocket-Parks 
While habitats have been degraded by human activity, few places illustrate its importance in urban areas as well as the pocket parks along the L.A. River. The concrete embankments (pictured here) are almost void of wildlife and plants, but a few steps away in the pocket parks, it's another story. Community activists and agencies like the Mountains Recreation and Conservation Authority have worked together to build spaces that celebrate nature and provide habitat for a mix of wildlife. See for yourself and visit three—Marsh, Rattlesnake, or Egret Park.
Try to find a western fence lizard on the concrete-lined riverbanks. You almost certainly can't—but a few feet away, you'll find many. Walk through Marsh Park and the lizards will tell you what they view as good habitat. You won't find them on paths or in the lawns, but instead hiding under woody plants or sunning themselves amongst the boulders and cobbles. They never stray too far into the open, staying close to cover in case danger comes knocking. This mosaic of urban hardscape and newer, native plantings provides a good outdoor classroom for anyone interested in making urban Los Angeles more wildlife friendly.
Trip Information
 
Where: Between the 110 and 2 freeways, near the 5 in Frogtown (a.k.a. Elysian Valley).
Parking: Free parking on surface streets. Handicap parking and access is best at Marsh Park.
Difficulty, Distance, Access: Easy. Can connect with longer bike rides if you wish. Good for strollers and wheelchairs—use caution walking on and crossing bike lanes.
Facilities: Bathrooms and picnic tables are available at Marsh Park.
Best time: Any time of day, any season.
Special notes: Summer boating season start and stop dates vary. Stay out of the river channel during storms when water level can rise rapidly.
Start your aquatic adventure here!